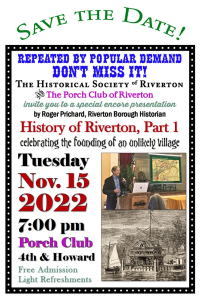 A presentation by Historical Society of Riverton and sponsored by the Porch Club, full of images you may not have seen, exploring who our founders were and why they may have ended up here.
Copies of HSR's new Arcadia "Images of America" book will be available for purchase (great gifts for the holidays!). You can always order copies here, too.
Roger Prichard is a Board member of HSR, the Riverton Borough Historian, and also the researcher and developer of most of HSR's historical interpretive markers on the riverbank and elsewhere.