Riverton Planning Board Members
Planning Board meetings are held the FOURTH Tuesday of each month, at 7 o'clock p.m. The Borough Hall is now open for in-person meetings.
PLEASE TAKE NOTICE, that on January 24, 2023 the Planning Board of the Borough of Riverton held their Annual Reorganization meeting at which they adopted a meeting schedule as listed below under Resolution PB-2023-02 for their Regular Monthly meetings in compliance with the requirements "Annual Notice" under N.J.S.A. 10:4-18. 
WHEREAS under the guidance of the Governor's Executive Order 107, the Division of Local Government Services of New Jersey has strongly encouraged all municipalities to conduct public meetings with communications equipment to avoid a public gathering. N.J.S.A 10:4-8(b) authorizes local units to conduct public meetings through use of streaming services and other online meeting platforms until further notice is given. Participant instruction for the public meetings Using a computer, tablet or smartphone, join the Zoom Meeting see the instructions below:
All meetings are open to the public and formal action may or shall be taken.  
All meetings are open to the public and formal action may or shall be taken. The public may submit questions or comments via e-mail to [email protected] no later than 4pm on the day of the scheduled meeting.
The public may also submit public comments in written letter form via mail or drop off to the municipal building located at 505A Howard Street Riverton, NJ 08077, during business hours no later than 4pm the day of the scheduled meeting. Previously submitted public comment shall be read aloud and addressed during the public meeting that will be heard to all remote participants and the public. The Governing Body may pass over duplicate written comments; however, each duplicate comment will be noted for the record with the content summarized. The chat option in Zoom shall not be considered nor recognized as a tool for Public Comments.
Secretary/Administrative Officer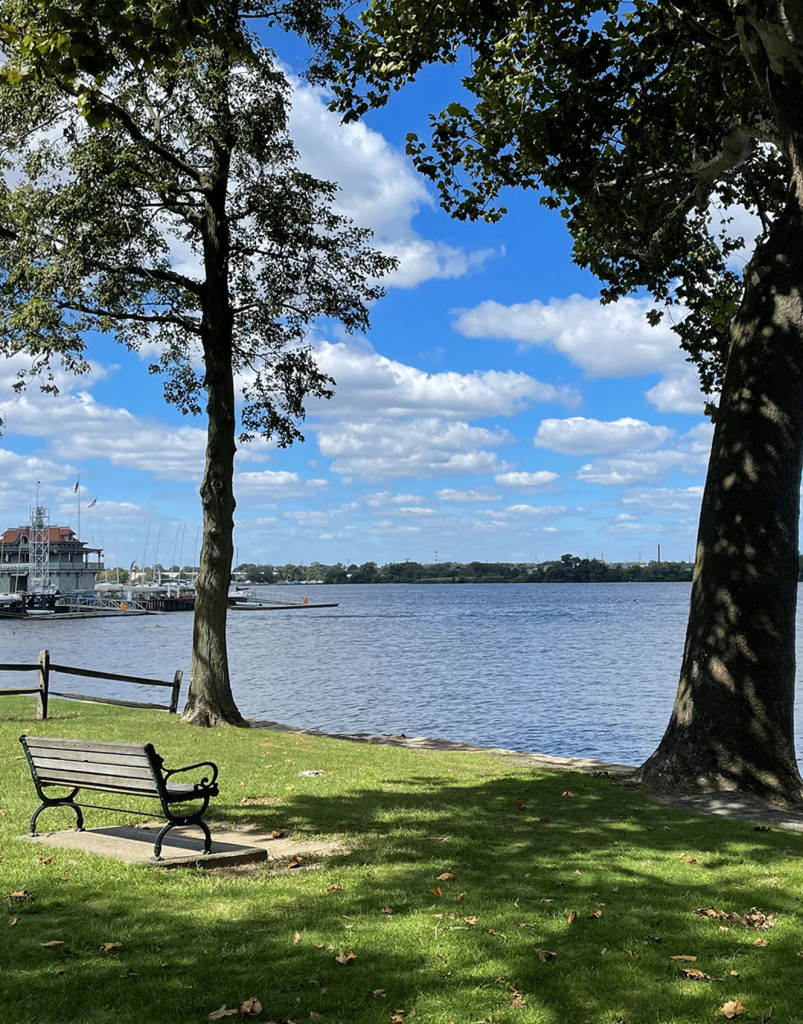 The Riverton Free Library, which began in 1890's, is still housed in the Carpenter style cottage on Main Street that was donated in 1908 by Mrs. Edward H. Ogden in memory of her husband, Riverton's first mayor. The cottage, erected in 1852 and enlarged several times, is a part of the County Library System.
Riverton Country Club was founded in 1900. It is one of the earliest golf clubs in the country. Its 18-hole course is challenging, and beautifully maintained. In 1905 a small half-way house with bowling alley and snack shop was erected adjacent to the club's entrance on Park Avenue. The bowling teams continue their activities in the original location.
In 1959 the original clubhouse was razed and a new, larger one was erected on the club grounds within Cinnaminson Township. They also offer tennis, swimming, fine dining and banquet facilities.

Riverton has always had interesting and notable people who have chosen to live here.
One of the earliest was John Fraser back in the 1850's. He was a famous architect and founder of the Pennsylvania Institute of Architects and the Philadelphia Chapter of the A.I.A. He designed many buildings including the Union League in Philadelphia and Christ Episcopal Church and Rectory in Riverton. He had offices in Philadelphia and Washington D.C. but his home remained Riverton until shortly before his death in 1902.
Isaiac Clothier, son of Founder Caleb Clothier was a resident. He entered into a partnership with his friend Justus Strawbridge in 1862. They founded the distinguished department store Strawbridge & Clothier in Philadelphia. Maxfield Parrish, artist, spent summers and vacations here during his youth with his grandfather Dillwyn Parrish (a Riverton founder) and other relatives whose homes were in Riverton. Joseph Campbell, for whom the soup company was named, lived here from 1872 until his death in 1900. Several members of the Dorrance family, who had joined and later taken over Campbell's Soup, also lived here. The John Bioren family of banking and stock exchange note lived here for more than a generation. Franklin D. Olier, who organized the American Legion in Paris in 1918 lived on Park Avenue. The Hollingshead family had lived in Riverton for many years when son Richard developed a 'drive-in' movie. The first drive-in opened June, 1932 in Camden NJ. During the height of the Pennsylvania Railroad, many of its executives lived in or visited Riverton. This might explain why special trains were often run to Riverton for events like bicycle racing in the 1890's, and flower shows at Dreer's Nursery for many years.
The Henry A. Dreer Company had their main office and trial gardens in Riverton from 1868 until 1944. They hybridized and developed many varieties of flowers, grasses, and vegetables. People came from the world over to study horticulture at their Riverton nurseries and to see the gardens in bloom from Spring until late Fall. Special flower shows were held at the height of the seasons. With the loss of three head executives within a short period of time and other circumstances, Dreer's closed in 1944. This was the last section of Riverton to be developed into residential lots.
Riverton today is almost fully developed. The population is stable at slightly more than 3,000. Changes in population are due primarily to generational cycles. Riverton is governed by elected officials; a Mayor, six Borough Council members, and various appointed committees. Riverton has Police and Volunteer Fire Departments and regular collections of trash and recyclable materials. There is an elementary school that was established in 1865, also, Nursery School, Daycare facilities, Rotary, and Lion's Clubs. Neighboring communities of Palmyra and Cinnaminson along with Riverton are referred to as the Tri-Boro Area and share some services and activities.
Over the years a small and vital business district has developed in the center of town. Offices and shops offer a variety of services and wares. Included are a tea-shop, deli, bakery, fitness center, post office and bank among others. In a pedestrian town such as Riverton all are easily reached on foot. In addition, the new River Line light-rail service has a station right in the center of town. It runs over the old steam-train route between Camden and Trenton making commuting to work or attending events anywhere between Philadelphia and New York possible.
Riverton has expanded gradually and systematically over the decades. Within its 3/4 of a square mile area neighborhoods display more than 150 years of American architectural styles. Six Victorian styles are represented in the earliest part of Riverton. Those of the twenty-first century are found east of the railroad. More than half of Riverton's buildings are included in the State and National Directories of Historic Places. Fine old trees, and some streets still lit by gaslights of a century ago help to make Riverton an attractive place to live.