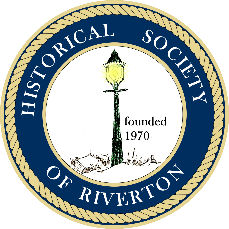 The Historical Society of Riverton is proud to present our first book dedicated to the fascinating history of our town.  All proceeds directly benefit Riverton historic research, preservation, and education.
 …'The aspirations of the early founders can still be felt in some rare images of the grand old homes and those whose lives matched their quiet splendor.  Enjoy photographs of some of the borough's well-known institutions that have stood the test of time, such as the iconic Riverton Yacht Club, Porch Club of Riverton, and Riverton Country Club. 
Many of them endure as familiar icons of our community, but lesser-known stories wait to be told through these exceptional visual accounts of days gone by.  Step back in time with pictures of early 4th of July celebrations and regatta races and see the true birthplaces of the legendary Duster sailboat and the drive-in theater that forever changed the way people experience movies.  For over 50 years, the Historical Society of Riverton has proudly curated many images and artifacts that help tell the story of Riverton. 
Let yesteryear come alive through the lens of past citizens and visitors who offer a unique look into the area's history.'
Get yours today!  Perfect for gifts and local history buffs.  Available locally in Riverton at the following establishments:
Early Bird Café, Tillies Treasures and Trinkets, and Palmyra Produce.
Also available on major online bookstore chains including Barnes and Noble, Amazon, Books-a-Million, etc.
Learn more at Rivertonhistory.com